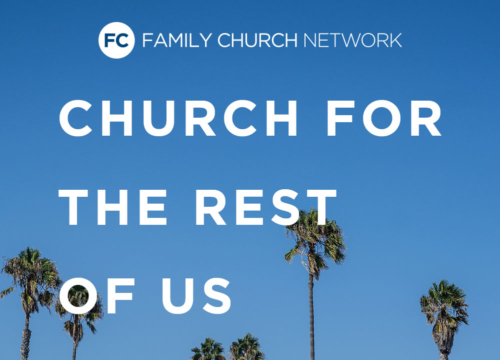 CFTROU 1005: Leading Through COVID-19 – Digital Learnings
On the podcast, Pastor Jimmy leads a discussion of how we find creative ways to stay connected to our teams and congregations during a time of crisis. Our Communications Team is featured on this episode to discuss how we are leveraging digital platforms to stay close to our church family. Leslee Bennett and Carly Seelman lead our digital initiatives and discuss how the
transformation from a face-to-face to a virtual church has been a drastic and quick change. They talk about the challenge of suddenly changing the model in which Family Church operates and how they do church. Churches of all sizes can tune in to see what we are doing, what are learning, and scale it according to their resources and needs. Be bold in trying new things and give yourselves permission to make mistakes. In this episode, we share some of our favorite platforms, tools, and strategies that help us to conquer the limitations of social distancing.
Key Points From This Episode:
How the church's digital strategy has changed since the COVID-19 outbreak.
The importance of preparing for interaction on Facebook live events.
Using Facebook groups to enhance communication.
Putting out the minimum viable product and optimizing while learning and growing.
Consider recording kids worship on video, broadcasting it, and connecting it to adult programming.
How our small groups have utilized Zoom and Google Hangouts to keep in contact.
Why it is a good idea for pastors to give their congregations a glimpse into their lives at home.
Some of the things that you have wanted to do for a long time that you haven't done yet – now is a great time to pull the trigger. Click To TweetOur goal is just to create connections in this time of social distancing. Click To Tweet
Links Mentioned in Today's Episode:
Church Communications Facebook Group
Get podcast updates delivered to your inbox.
This podcast releases every Monday morning. Subscribe for free and never miss out on an episode of Church for the Rest of Us.
Subscribe via
If you like us, rate us or leave a comment below.
Hopefully, this episode has given you principles, strategies, and ideas that you can implement right now with the resources you have. If so, can you let others know?
The best way to do that is to rate the podcast on iTunes or Stitcher and leave us a brief positive review!
This will help us place the podcast in front of more pastors and ministry leaders. It also lets us learn from you. Thank you for taking the time to get the word out about Church for the Rest of Us.