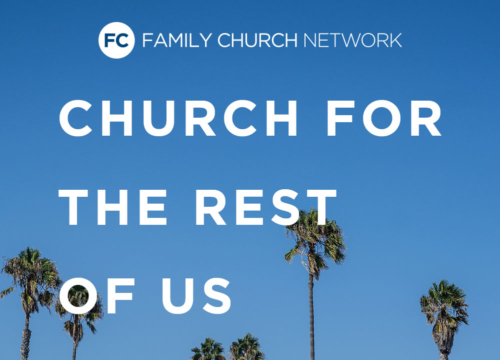 CFTROU 0134: Church Reimagined: 52 Special Events a Year
On this episode, we are joined by Aaron Filippone, Campus Pastor of Family Church Gardens. Our discussion centers around growing our Sunday morning church services – our 52 special events a year. How do we go about doing this? We talk about some of practical ways we have approached this. Our team shares the tools we've made use of in this season and discuss the significance of deciding, as a church, what your main task, business, and emphasis will be. All of this helps bring the focus back to the mission and growing our church as a whole. Tune in and let us know your thoughts!
Key Points:
What Pastor Jimmy means when he says we have 52 special events in a year.
Why you need to decide, as a church, what your main task, business, and emphasis is.
How to navigate passions and ministry ideas without draining from the main church mission.
How we used 501(c)(3)'s to help maintain and sustain some of the ministries we "landed."
Learn how partnering with other organizations is an option to continue serving the community.
Some strategies to make sure your 52 events are successful and healthy: driving attention to Sunday mornings.
Why pastors should make sure that ministries are not a substitute for corporate gatherings.
Advice for pastors who are in the process of starting back up: stop doing things that are not profitable to your mission.
Practical tips from Pastor Jimmy and Aaron – make lists!
In my opinion, you shouldn't have any events that are more important than your Sunday morning services. Click To TweetIf you don't grow, you're going to die. And if you do grow, you'll outgrow all of the problems you are having! Click To Tweet
Links Mentioned in Today's Episode:
Church for the Rest of Us on Twitter
Get podcast updates delivered to your inbox.
Subscribe for free and never miss out on an episode of Church for the Rest of Us.
Subscribe via
If you like us, rate us or leave a comment below.
Hopefully, this episode has given you principles, strategies, and ideas that you can implement right now with the resources you have. If so, can you let others know?
The best way to do that is to rate the podcast on iTunes or Stitcher and leave us a brief positive review!
This will help us place the podcast in front of more pastors and ministry leaders. It also lets us learn from you. Thank you for taking the time to get the word out about Church for the Rest of Us.