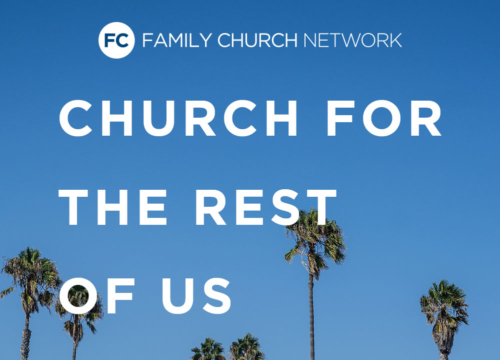 CFTROU 0131B8: Bonus: Full Circle Parenting
Family life is important, if you lead a ministry team, or whatever your situation may be. The good news is that you can do everything that God wants you to do with your ministry and family with resources you have, right now! On today's episode, we welcome Pastor Jimmy's wife, Kristin, and two of their kids Stephen and Anna Kate. We're going to talk about a new Family Church resource called
Full Circle Parenting,
a book written by Jimmy and Kristin, releasing on April 20, 2021. All the proceeds for this book go to Family Church to support our strategy called Relentless Pursuit, and we are so excited about this new resource. Tune in today to hear from the Scroggins as they share with us the motivation behind writing the book, unpacking the terms
complexity
and
management,
how they impact our children, as well as hear some personal experiences from Stephen and Anna-Kate! So, stay tuned and enjoy.
Key Points:
Learn about the tools we've made use of in this season.
How the concept of complexity impacted Anna Kate.
How the concept of management applies to our kids.
Stephen talks about his experience with management in his life; a trusting bond between father and son.
What makes the kids comfortable with approaching their parents with their issues; being real and comforting.
Intentional actions that Pastor Jimmy and Kristin have done to facilitate relationships with their children; nurturing and building sibling relationships.
Taking advantage of the flexibility of being in ministry and prioritizing shared experiences.
Stephen and Anna Kate share their favorite principles they learned from their parents.
Goals for parents to takeaway as they read through the resource.
Jimmy and I have been saying that a good theology leads to a good parenting strategy, which helps us to have good conversations with our kids. Click To TweetHaving good parent-child and sibling relationships is accessible! Click To TweetThe standards are high, and we are pursuing God's design, but we never forget that God made a way back! There is redemption and there is restoration, it's never too late for anybody. Click To Tweet
Links Mentioned in Today's Episode:
Church for the Rest of Us on Twitter
Get podcast updates delivered to your inbox.
Subscribe for free and never miss out on an episode of Church for the Rest of Us.
Subscribe via
If you like us, rate us or leave a comment below.
Hopefully, this episode has given you principles, strategies, and ideas that you can implement right now with the resources you have. If so, can you let others know?
The best way to do that is to rate the podcast on iTunes or Stitcher and leave us a brief positive review!
This will help us place the podcast in front of more pastors and ministry leaders. It also lets us learn from you. Thank you for taking the time to get the word out about Church for the Rest of Us.