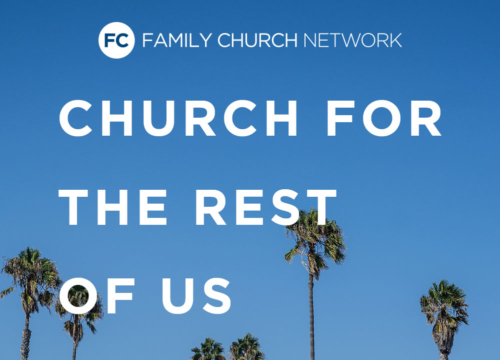 CFTROU 0137: Theological Education Reimagined

There will always be value in continuing the journey of education and learning; being a life-long learner is a vital aspect of success and effectiveness in the ministry. You will continue to see and reap the benefits of education, whether it's to better handle the word of God, handle theological truth, explaining why you believe what you believe, and so much more. With that, welcome back to another episode of Church For the Rest of Us, Church Reimagined Series! Joining us today on the show is our good friend Troy Temple, the Dean of the Rawling's School of Divinity at Liberty University. We continue our talk on re-planting, renewing, and reimagining the way that we do church. We delve into the topic of reimagining the way we do Christian Education or Theological Education; such an important aspect of what we do at Family Church. Stay tuned for an insightful conversation with Dr. Troy W. Temple and being a life-long learner!
Key Points:
Troy shares more about himself, his family, and his connection to Family Church.

More about Troy's role at Liberty University and the importance of training when in ministry.

Hear about the different levels of education at the Rawling's School of Divinity and their desire to partner with local churches.

How COVID is impacting theological education and trends; innovating in a quick and effective way.

More about the model of education they are trying to create and how it works.

Calling out the call: giving people the opportunity to go into full-time ministry.

Troy's advice to pastors who would like to level up in their education: use the internet.

The vital importance of being a life-long learner to success and effectiveness in the ministry. 
The way you grow is being able to focus in on what you've been called to do, and being obedient in that! Click To TweetI'm so thankful for Liberty University, making theological education and training, accessible, making it affordable, and making it adaptable — wherever you are or whatever you're doing. They're conservative and bible-based, and… Click To Tweet
Links Mentioned in Today's Episode:
Church for the Rest of Us on Twitter
Get podcast updates delivered to your inbox.
Subscribe for free and never miss out on an episode of Church for the Rest of Us.
Subscribe via
If you like us, rate us or leave a comment below.
Hopefully, this episode has given you principles, strategies, and ideas that you can implement right now with the resources you have. If so, can you let others know?
The best way to do that is to rate the podcast on iTunes or Stitcher and leave us a brief positive review!
This will help us place the podcast in front of more pastors and ministry leaders. It also lets us learn from you. Thank you for taking the time to get the word out about Church for the Rest of Us.