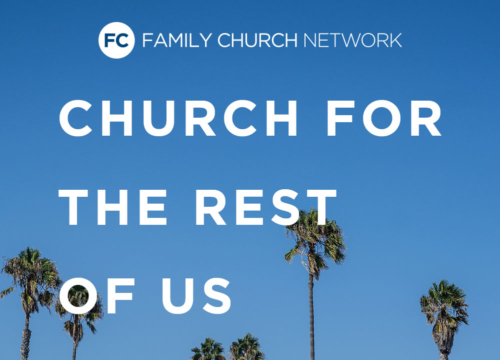 CFTROU 0140: Be Trustworthy

In this episode Pastor Jimmy and Leslee Bennett are joined by Pastor Winner Olmann to discuss another one of our Family Church Leadership Principles – to be trustworthy. We break down our definition of trustworthiness as the consistent demonstration of integrity in all that you do and say, sharing some examples and practical applications to help you build a strong team and implement appropriate guidelines within your organization. Tuning in, you'll also learn more about the importance of predictability, under-promising and over-delivering, and honoring confidentiality, as well as the power of giving credit where credit is due.
Key Points:
Defining 'be trustworthy': consistently demonstrating integrity in all that you do and say.

An example from the Book of Exodus 18:21 of how Moses demonstrated trustworthiness.

Leslee outlines the theological principle underpinning trustworthiness from Philippians 1:27.

Winner on how consistency breeds trust using the chocolate raw egg prank as an example.

Practical applications for the 'be trustworthy' principle, starting with living with a clear conscience, both personally and organizationally.

Find out what Leslee, Jimmy, and Winner mean when they say "fill the gas with trust."

The importance of follow through, as well as under-promising and over-delivering.
"It's easy to find yourself over-promising. Really, in an organization, that's not healthy. It's healthier to tell people no, or what you can realistically accomplish, than to try to please them by saying yes and then not being able… Click To Tweet"Integrity means complete, it means whole, it means upright – being the same on the outside as you are on the inside. Click To Tweet
Links Mentioned in Today's Episode:
Church for the Rest of Us Conference 
Church for the Rest of Us on Twitter
Get podcast updates delivered to your inbox.
Subscribe for free and never miss out on an episode of Church for the Rest of Us.
Subscribe via
If you like us, rate us or leave a comment below.
Hopefully, this episode has given you principles, strategies, and ideas that you can implement right now with the resources you have. If so, can you let others know?
The best way to do that is to rate the podcast on iTunes or Stitcher and leave us a brief positive review!
This will help us place the podcast in front of more pastors and ministry leaders. It also lets us learn from you. Thank you for taking the time to get the word out about Church for the Rest of Us.