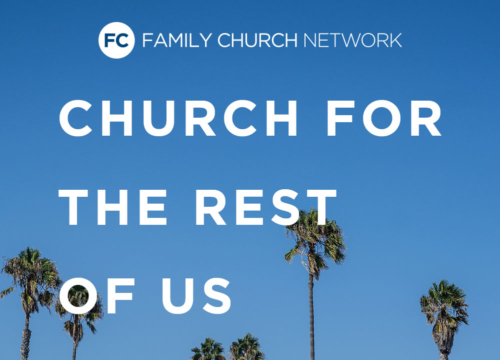 CFTROU 0143B9: Navigating Grief
The COVID-19 pandemic has been traumatic for everyone, and many of us are grieving. Joining us today to talk about dealing with grief, is Church For The Rest of Us's very own Kevin Mahoney. As our resident grief counselor, Kevin takes us through his personal experience of losing loved ones, and how through this, he found God. He discusses his own search for a Jesus-centered grief counseling program, and how the GriefShare program works. From people dealing with grief, to pastors and church leaders searching for a program to help their community, GriefShare can help you. Not only does Kevin provide us with the tools to support each other, but he also teaches us how to talk to those who are grieving, and what you need to do to get from one day to the next. Tune in to this episode to equip yourself to give people the hope that they need.
Key Points:
An introduction to Kevin Mahoney: pastor, pilot, financial account manager, husband, father, grandfather, and grief counselor.

Kevin's personal experience with grief.

What to say to those who are grieving.

How the loss of Kevin's first-born son led him to God.

Finding a Jesus-centered grief program: GriefShare.

A breakdown of the GriefShare program.

How GriefShare brings people together, and to God.

Some advice for pastors and church leaders on how to counsel those who are grieving. 

Why it's so important to look after yourself physically as well as spiritually when grieving. 

 
Through grief, there's really two choices: the first is you can become bitter. Or the second is you can become better because God does work all things together for good. Click To Tweet"Early Click To Tweet, your presence is the present." username="RevKevMahoney"]Often just being present in their life at the initial time of loss is very helpful. Click To TweetGod might give you more than you can handle, but God will never give you more than He can handle. Click To Tweet
Links Mentioned in Today's Episode:
Get podcast updates delivered to your inbox.
Subscribe for free and never miss out on an episode of Church for the Rest of Us.
Subscribe via
If you like us, rate us or leave a comment below.
Hopefully, this episode has given you principles, strategies, and ideas that you can implement right now with the resources you have. If so, can you let others know?
The best way to do that is to rate the podcast on iTunes or Stitcher and leave us a brief positive review!
This will help us place the podcast in front of more pastors and ministry leaders. It also lets us learn from you. Thank you for taking the time to get the word out about Church for the Rest of Us.