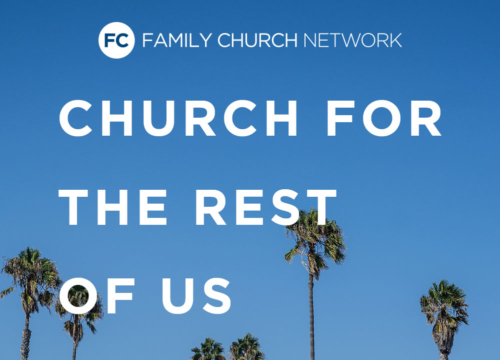 CFTROU 0145: Be a Collaborator
On this episode, Pastor Jimmy Scroggins elaborates on the Family Church Leadership Principles and how our team has stayed flexible, agile, and adaptable in this season. Pastor Christian Ramos and Minister to Families, Erica Brooks, lead in different ministry areas, but share how they live out the Family Church Leadership Principles in their day-to-day activities. Hear how Christian uses the "umbrella of mercy" to air silly ideas, and why Erica feels saying less achieves greater impact. From tips on how you can make meetings more entertaining, to why the legend of King Arthur's round table is Jimmy's inspiration, you don't want to miss out on this super informative episode!
Key Points:
How we define being an innovator: being courageous about creating, and embracing change, keeping the future in view!
What it means to be a collaborator: going from I to WE.

How the legend of King Arthur and the round table inspired Jimmy.

Why listening needs to be intentionally collaborative.

Hear the scripture that describes the importance of collaboration.

The practical ways to becoming a collaborator: from creating a time and space to building cross-functional teams.

Why face-to-face (or mask-to-mask) interaction is so crucial.

The tradeoff between the time taken to make a decision when multiple people are involved, versus the benefits of different viewpoints.

What should be communicated via email and text, compared to what meetings should cover.

Collaboration can mean laziness: why it's important to practice strong preparation and full engagement.
Collaboration without accountability is just brainstorming. Click To TweetThe less you say, the more people tend to listen. Click To Tweet
Links Mentioned in Today's Episode:
Get podcast updates delivered to your inbox.
Subscribe for free and never miss out on an episode of Church for the Rest of Us.
Subscribe via
If you like us, rate us or leave a comment below.
Hopefully, this episode has given you principles, strategies, and ideas that you can implement right now with the resources you have. If so, can you let others know?
The best way to do that is to rate the podcast on iTunes or Stitcher and leave us a brief positive review!
This will help us place the podcast in front of more pastors and ministry leaders. It also lets us learn from you. Thank you for taking the time to get the word out about Church for the Rest of Us.