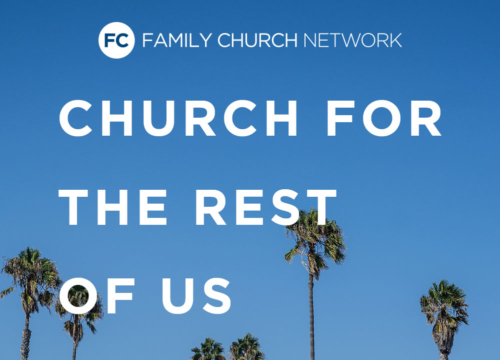 CFTROU 0146: Be Excellent
You can be excellent no matter where you are, no matter what kind of business you are in, and no matter what kind of church you are leading. In this episode, we discuss another Family Church Leadership Principle, to be excellent. Our guests are Dr. Mark Warnock, who oversees our Residency Program, and Tyler Core, Pastor to Students and Families for our network. Mark also leads worship at North Stuart Baptist Church, while Tyler oversees the 6-12th grade and college ministries across all of our neighborhood churches. They share what excellence means, what it looks like, and how doing whatever we do with excellence is a part of our worship of and to the Lord (as seen in the book of Colossians). Join us as we talk about excellence in leadership, how it should be embraced comprehensively as a lifestyle, and practical guidelines to follow when establishing a culture of excellence.
Key Points:
How we define being an innovator: being courageous about creating, and embracing change, keeping the future in view!

How being excellent relates to leadership: passion, attitude, and effort are free.

How you can think about excellence differently; not everything is equally resourced.

Making excellence comprehensive; it is a lifestyle we have to embrace.

Leading with excellence cultivates a culture of excellence.

We discuss some practical guidelines.

The importance of creating and communicating appropriate exceptions; up-line and down-line.

Doing our work in a way that makes Jesus proud!

Be decisive and take action; be an innovation broker.

We discuss why church metrics/data are important and how we can use it to work towards excellence.

Call the play and run the play: make the decision and then execute it!

Commit to continuous improvement!

It helps creates a passion within us if we remind ourselves that everything we do is for the Lord. Click To Tweet

Links Mentioned in Today's Episode:

Church for the Rest of Us Conference

Get podcast updates delivered to your inbox.
Subscribe for free and never miss out on an episode of Church for the Rest of Us.
Subscribe via
If you like us, rate us or leave a comment below.
Hopefully, this episode has given you principles, strategies, and ideas that you can implement right now with the resources you have. If so, can you let others know?
The best way to do that is to rate the podcast on iTunes or Stitcher and leave us a brief positive review!
This will help us place the podcast in front of more pastors and ministry leaders. It also lets us learn from you. Thank you for taking the time to get the word out about Church for the Rest of Us.