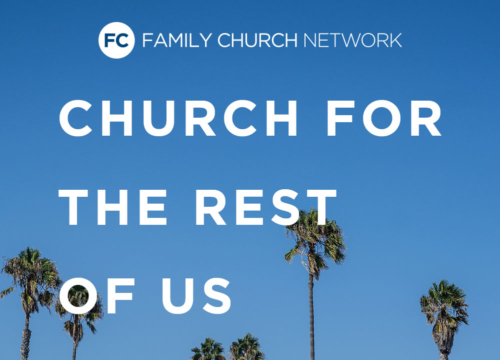 CFTROU 0175: Developing Theologically Grounded Leaders

In this episode, Dr. Mark Warnock, Family Church's Residency Director, and Angel Turbeville, Family Church Village's Campus Director, talk about developing leaders. Theological grounding is more important than ever. In this episode, we examine how people's beliefs can be formed by social media and how delving into theology in isolation can do more harm than good, particularly for those taking up leadership roles. In the face of polarization, followers of Jesus are called to prioritize unity and love. We stress the importance of heart formation, teaching the Bible, and building strong families rooted in the Bible. They also discuss the qualities and qualifications to be a community leader. Tune in for more valuable insights.
Key Points From This Episode:

Training individuals to start new churches.
The need for spiritual development and helping people grow in their faith.
The cultural changes and challenges pastors face in the current era of technology and secularization.
The impact of social media on the formation of people's beliefs and the necessity of theological grounding.
Biblical examples of people who maintained faithfulness to God in hostile cultures.
The importance of teaching the Bible.
Who should be developed to be leaders, according to the book Deep Discipleship.
The role of leaders as undershepherds.
The "qualifications" required of leaders, including the immersion in community, and the rejection of isolation.
Why it's important for pastors to stay connected with their leaders and continually monitor their character and beliefs.
We're in a season culturally where it is so much more important to theologically ground. Click To TweetThe Bible has a lot of examples of people who have lived out faithfulness to God in hostile, unfriendly cultures. Click To TweetLeaders need to immerse themselves so they're not living lives of isolation, they're living lives immersed in the community that they're leading. Click To Tweet
Links Mentioned in Today's Episode:
Deep Discipleship by J.T. English
Get podcast updates delivered to your inbox.
Subscribe for free and never miss out on an episode of Church for the Rest of Us.
Subscribe via
If you like us, rate us or leave a comment below.
Hopefully, this episode has given you principles, strategies, and ideas that you can implement right now with the resources you have. If so, can you let others know?
The best way to do that is to rate the podcast on iTunes or Stitcher and leave us a brief positive review!
This will help us place the podcast in front of more pastors and ministry leaders. It also lets us learn from you. Thank you for taking the time to get the word out about Church for the Rest of Us.