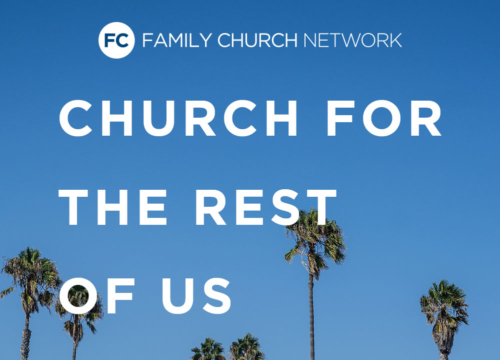 CFTROU 0159: The Power Of The Neighborhood Church: A Conversation With Pastor Freddy T. Wyatt
Today, on Church For the Rest of Us, we speak with Pastor Freddy T. Wyatt from Real Life Church in Clarksville, Tennessee, as we continue our series of conversations about the power of the neighborhood church. Freddy T. is a passionate preacher of God's word, and a risk-taking, baseball-loving, espresso-drinking, old-book-hunting husband and dad! In this episode, we get a glimpse into Freddy T's journey and how he came to plant a new church in the Sango area of Clarksville. We take a look at his Who's Your Three initiative, which uses the concept of neighborhood mapping to help you invest deeply in the three people that God has put right in front of you, rather than spreading yourself too thin. We discuss the importance of community presence, his focus on relational and spiritual receptivity, and the role that contextualization plays in effective ministry. Freddy T. also offers some poignant insights about doing ministry in a way that we can implement with the resources available to us. For all this and so much more, you won't want to miss today's conversation with Pastor Freddy T!
Key Points:
An introduction to Kevin Mahoney: pastor, pilot, financial account manager, husband, father, grandfather, and grief counselor.

A look at Freddy T's journey as a pastor and a leader and the church he serves in today.

Planting a new church and getting it off the ground during a global pandemic.

Freddy T's practical take on the concept of the neighborhood church.

Insight into what he calls the 'Who's Your Three' initiative.

Highlighting the importance of having a presence in your community.

What organizing an Easter egg hunt in New York City taught Freddy T. about relational and spiritual receptivity.

Some of the challenges of contextualization in ministry from Freddy T's perspective.
Advice for pastors as they assimilate into new neighborhoods.
What keeps Freddy T. motivated to serve his community with God rather than for God.
How ministry out of the overflow can help you avoid burnout.
The first word that comes to my mind when I hear neighborhood church is that Jesus is giving us the second greatest commandment: love your neighbor as yourself. Click To TweetLook at this list of 30 people that God has put in front of you; in your neighborhood, your work, and your third place. Where do you see the most relational receptivity or spiritual receptivity? Click To TweetYou've got to learn what matters to a community. Click To Tweet
Links Mentioned in Today's Episode:
Get podcast updates delivered to your inbox.
Subscribe for free and never miss out on an episode of Church for the Rest of Us.
Subscribe via
If you like us, rate us or leave a comment below.
Hopefully, this episode has given you principles, strategies, and ideas that you can implement right now with the resources you have. If so, can you let others know?
The best way to do that is to rate the podcast on iTunes or Stitcher and leave us a brief positive review!
This will help us place the podcast in front of more pastors and ministry leaders. It also lets us learn from you. Thank you for taking the time to get the word out about Church for the Rest of Us.