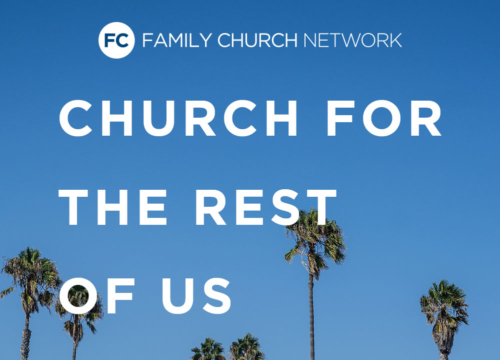 CFTROU 0168: Gender Identity & Youth Trips

We are bringing you the greatest hits of this year's Church for the Rest of Us Conference. On this episode, we are joined by Tyler Core, Campus Pastor of Family Church Gardens, and Victoria Rodriguez, Student Ministry Assistant. Before Pastor Tyler transitioned to his current role, he previously led our student ministry team across our family of neighborhood churches. They discuss the topics surrounding the LGBTQIA2S+ community at our camp this year. We delve into the three fundamentals that make up God's design for men and women and how we used those fundamentals to create a document of rules and policies. These rules and policies are intended to protect children, create an inclusive environment, and uphold the word of God. We explain our beliefs surrounding gender and sexuality and how we rolled out this new policy. Additionally, we inform our listeners of the mistake we made (and learned from) in our first year. We also share what happens when rules are broken at camp. Finally, we remind you of the importance of having discussions like these.
Key Points From This Episode:
How we handled our discussion about LGBTQIA2S+ children at the conference.
God's design: fundamental equality, fundamental differentiation, fundamental interdependence.
Why our church believes that biological gender and sex should match and that heterosexual attraction is God's design.
We go through the document of rules and policies we came up with for students and parents to read and agree to before any trip.
The mistake we made the first year we rolled this policy out – not discussing it with the kids.
The importance of having these types of discussions.
How they handle the breaking of rules on these camps.
Our theology should inform our philosophy and our philosophy should inform our methodology. Click To TweetAll people have tremendous value and worth because they're made in the image of God. Click To TweetWe have got to create spaces to have open dialogue about these things – and make sure these trips are accessible for all sorts of people. Click To Tweet
Links Mentioned in Today's Episode:
Get podcast updates delivered to your inbox.
Subscribe for free and never miss out on an episode of Church for the Rest of Us.
Subscribe via
If you like us, rate us or leave a comment below.
Hopefully, this episode has given you principles, strategies, and ideas that you can implement right now with the resources you have. If so, can you let others know?
The best way to do that is to rate the podcast on iTunes or Stitcher and leave us a brief positive review!
This will help us place the podcast in front of more pastors and ministry leaders. It also lets us learn from you. Thank you for taking the time to get the word out about Church for the Rest of Us.