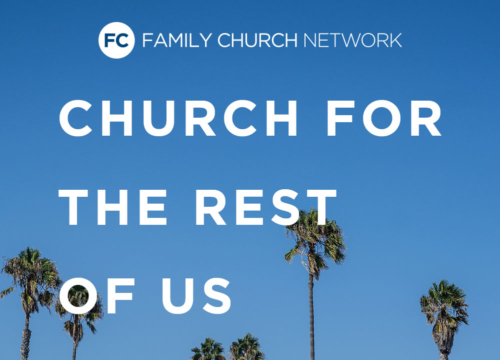 CFTROU 0169: Hospitality: Culture, Systems, & Shepherding

As we continue with the greatest hits from our recent Church for the Rest of Us Conference, we discuss how to prioritize a hospitality culture without sacrificing your systems and shepherding practices. Karen Brooks and Josiah Kish walk us through what this looks like in our context.
Karen serves as the Director of Church Ministries at Family Church Gardens and Josiah serves as the Connections and Groups Minister at Family Church Downtown. They first walk us through the Biblical foundations of the teams they lead. Then, Karen defines hospitality at Family Church, while Josiah breaks down the tactics that our teams use to make sure the people in our neighborhood churches feel welcomed and at home. Karen and Josiah also talk about how to identify  people that are new to our churches, in a way that feels organic and engaging. They walk through setting up the right shepherding processes and how to follow up with each person with next steps that are specific to them. All of these intentional steps strengthens the relationships we build with people that are new to our churches. This episode is filled with actionable insight you can take and use right now with the resources you currently have.
Key Points From This Episode:

• A look at how a sampling of our neighborhood churches operate within their demographics.
• Defining hospitality in this context as removing obstacles for people to hear the gospel.
• Tactics we use to help make people feel at home in our churches.
• How to separate new members from regular attenders without alienating either group.
• The importance of entry points and processes for building a discipleship pipeline.
• How to set the right shepherding processes and why a team huddle is an excellent idea.
• The inconvenience (and necessity) of making the church feel small.
• Using collaboration in leadership meetings and book studies to help people take their next steps in Christ.
We want to, across the board, make church feel like home; make it feel small so that you feel like you're part of the family. Click To TweetWe don't have all the magic answers, but we're learning and we have a great culture of collaboration. We love doing this together. Click To Tweet
Links Mentioned in Today's Episode:
Get podcast updates delivered to your inbox.
Subscribe for free and never miss out on an episode of Church for the Rest of Us.
Subscribe via
If you like us, rate us or leave a comment below.
Hopefully, this episode has given you principles, strategies, and ideas that you can implement right now with the resources you have. If so, can you let others know?
The best way to do that is to rate the podcast on iTunes or Stitcher and leave us a brief positive review!
This will help us place the podcast in front of more pastors and ministry leaders. It also lets us learn from you. Thank you for taking the time to get the word out about Church for the Rest of Us.