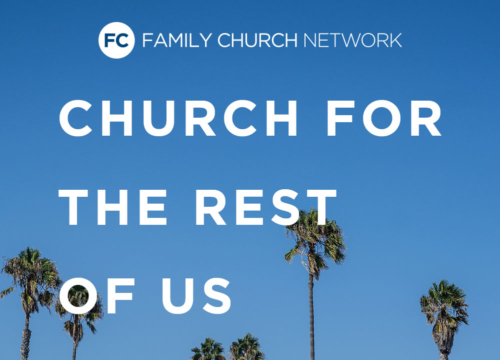 CFTROU 0174: Caring Well for Kids & Students

In this episode, we discuss how Family Church has taken initiative in protecting our students and kids in our ministry environments. Jake Kimbrell, Minister to Students and Families at Family Church Sherbrooke, and Wendi Serna, Director of Family Ministry at Family Church Jupiter, join the conversation to talk about the importance of safeguarding our students and kids from abuse. They also explain what the book of John teaches us in chapter 10 about protecting our young ones. They also explain the benefits of creating and updating great policies, why a comprehensive onboarding process matters, how to properly vet prospective staff and volunteers, and the resources that Family Church uses to create a safer environment for all who walk through our doors. As we explore topics related to abuse in this episode, we ask that you listen with care.

Key Points From This Episode:

What John 10 teaches us about protecting our children.
Caring Well: what it means and why it matters.
How the ideas of Caring Well manifest in our ministry areas (specifically students and kids).
The benefits of creating great policies and updating them regularly.
Taking a closer look at our onboarding process for new staff and volunteers.
How a comprehensive onboarding process can lead to fewer problems down the line.
How we get to know potential staff and volunteers on a deeper level, and why this is helpful.
The methods and models of safety that we follow.
Resources that can help you to create a safer environment at your church.
We want our churches to be as safe as possible. We live in a broken world and there are no guarantees, but we want to do all we can to protect our kids and our students. Click To TweetYou can always make a policy that's good, but then every year we like to refine that and make it better. Click To Tweet
Links Mentioned in Today's Episode:
Becoming a Church that Cares Well for the Abused
Get podcast updates delivered to your inbox.
Subscribe for free and never miss out on an episode of Church for the Rest of Us.
Subscribe via
If you like us, rate us or leave a comment below.
Hopefully, this episode has given you principles, strategies, and ideas that you can implement right now with the resources you have. If so, can you let others know?
The best way to do that is to rate the podcast on iTunes or Stitcher and leave us a brief positive review!
This will help us place the podcast in front of more pastors and ministry leaders. It also lets us learn from you. Thank you for taking the time to get the word out about Church for the Rest of Us.