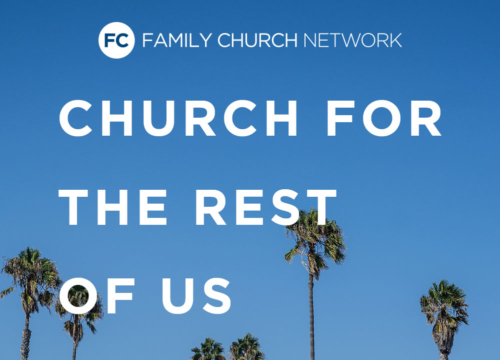 CFTROU 1006: Leading Through COVID-19 – Campus Pastor Q & A
In this episode, Lead Pastor of the Family Church Network, speaks with campus pastors of our Family Church Sherbrooke, J
immy Muir
 and
 Todd Thoma
s. As pastors in a multisite network of neighborhood churches, they have developed a way to stay connected to their people, including leaders and groups. 
In 
this Q & A discussion, they share practical thoughts on leading groups on a digital platform 
during the coronavirus crisis and what they have had to do to adjust to the new normal
 (for right now)
. During this time of global panic, these pastors are making an effort to 
stay personally connected through
 phone calls
, text messages, email, and social media. T
hey want to keep encouraging people and communicate a message of 
hope, leveraging tools like Facebook and Zoom to 
meet in virtual groups, study the Bible, 
lead worship, 
and 
discuss sermons
. 
While the crisis has fundamentally challenged the face-to-face model of the church, this is a unique opportunity for us as the body of Christ to learn new skills and equip ourselves to make an even greater impact in the future.
Key Points From This Episode:
How to engage and encourage

 

with congregations of a multisite church on

 a personal level.

How 

to leverage

 Facebook 

and Zoom 

for 

Bible study, 

worship, sermon discussions, and small groups.

Thoughts on the participation and engagement of people in 

a digital meeting (like Zoom).

 

Testimonies

 about how the crisis has resulted in positive changes and new connections. 

 

Recognizing that this is an opportunity to learn digital skills that will serve us in the future. 

 

How we can reach out to and minister to people over 65 who are encouraged to sta

y indoors. 

 
We're doing everything we can to be an encouragement to our people, letting them know we're in it with them. Click To TweetWhen the coronavirus is over and we go back to being a face-to-face church, we have learned skills that we can carry into the future. Click To Tweet
Links Mentioned in Today's Episode:
Get podcast updates delivered to your inbox.
This podcast releases every Monday morning. Subscribe for free and never miss out on an episode of Church for the Rest of Us.
Subscribe via
If you like us, rate us or leave a comment below.
Hopefully, this episode has given you principles, strategies, and ideas that you can implement right now with the resources you have. If so, can you let others know?
The best way to do that is to rate the podcast on iTunes or Stitcher and leave us a brief positive review!
This will help us place the podcast in front of more pastors and ministry leaders. It also lets us learn from you. Thank you for taking the time to get the word out about Church for the Rest of Us.