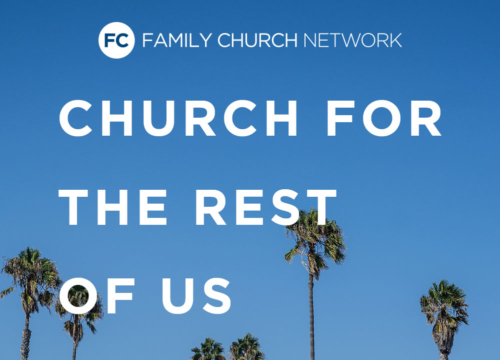 CFTROU 0130: Church Reimagined: Large Gatherings Are Out, Neighborhood Church Is In
This past year has been filled with uncertainty and now, as we navigate our new reality in a post-COVID-19 world, we are reimagining the way we do church. So what does that mean for us at the church one year on? Our model hasn't changed. We are putting all of our efforts on building up the neighborhood church to take the gospel to every person in every neighborhood in South Florida. Dr. Mark Warnock and Pastor Winner Olmann from our Family Church Village location. We discuss the trends we have observed, how to host events that are meaningful and safe, and how to accelerate the work we have been called to do.
Key Points:
The smaller-scale approach to church gatherings in the time of the pandemic.
Global trends away from large crowds and responding to these appropriately.
The impact of smaller gatherings and using this power for effective ministry.
Online elements that have contributed to more tailored and customized experiences.
Responding to the needs of the people and creating a feeling that a community wants to return to.
Looking at the difference that a crowd makes to live sporting events.
A renewed focus on creating the 'neighborhood feel' that deeply serves a local community.
Finding opportunities to reach the whole neighborhood and make all feel welcome.
Making the most of your circumstance right now; parting advice from our panel.
We have been trying to multiply neighborhood churches in our region for the last twelve years. And now with the pandemic that approach seems even more appropriate and necessary. Click To TweetLet's not compare to what was, let's just think about what is now and what we have to celebrate. Click To Tweet
Links Mentioned in Today's Episode:
Get podcast updates delivered to your inbox.
This podcast releases every Monday morning. Subscribe for free and never miss out on an episode of Church for the Rest of Us.
Subscribe via
If you like us, rate us or leave a comment below.
Hopefully, this episode has given you principles, strategies, and ideas that you can implement right now with the resources you have. If so, can you let others know?
The best way to do that is to rate the podcast on iTunes or Stitcher and leave us a brief positive review!
This will help us place the podcast in front of more pastors and ministry leaders. It also lets us learn from you. Thank you for taking the time to get the word out about Church for the Rest of Us.